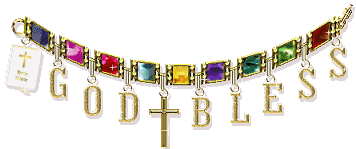 Inspiration and Peace

We all need some inspiration and peace in our lives and a daily dose would be wonderful. However you find it, is up to you, I choose to find it through God.

I am a firm believer of God and I feel His presence in my life every single day with whatever I choose to do. I have witnessed Him at work in my life, inspiring, changing, protecting, comforting, encouraging, answering prayers and even not answering prayers, which have later proved with good reason.

I feel I have been blessed by God in so many different ways. Most of us, including myself, can sometimes take things for granted, until we stop and think and count…our blessings.

I have never been a wealthy person, but I have been rich in so many other ways. I have been blessed with three wonderful children, complication free pregnancies, and feel proud of them, now all adults. I have been blessed with two absolutely gorgeous grandchildren too! I have a wonderful man I am able to share my life with, a home, food on my table, my "furkids" (dogs) and at this present time, live as close as one can to God on this earth…in the country/forest edge/bush edge. Here, I have come to admire so much of God's wonderful creations, be it in plants, beautifully coloured birds that sing so glorious, or wildlife that share the surrounds.

Even though, I know the day may come when I will no longer be able to enjoy all this beauty God has created, I will still feel blessed that I was able to for so many years. Even with its trials, such as bushfires, floods, pests, it has still been a privilege.

God has also blessed me in so many other ways, too numerous to count. We each have our stories to tell and so have I, but this section of my website has been dedicated to God, His Son in Jesus Christ, Holy Mother Mary, all the saints and angels, and you who have come this far. It is where you can pray, where you can light your candle on line, and enjoy some of the inspirational poems, quotes, stories, etc. I have provided for you. More will come as time allows. If you have any you would like to have added, please email them to me and I will add them.

Enjoy this quiet time here and may God be with you all.





Click on the candle above. You will be taken to another website where you will be able to lite your virtual candle.

In many different traditions lighting candles is a sacred action. It expresses more than words can express. It has to do with gratefulness. From time immemorial, people have lit candles in sacred places. Why should cyberspace not be sacred?

You may want to begin or end your day by the sacred ritual of lighting a candle on this website. Or you may want to light a birthday candle for a friend. One single guideline is all you need: Slow down and do it with full attention. From here on, you will be guided step by step.